Did you know?
*Most people prefer blue toothbrushes to the red ones.
*Pigs have 44 teeth.
*Teeth in humans start to form before they are born.
*The elephant has six sets of teeth while you and I have only two. Even so, they only use one set at a time. Each set is made up of four teeth two on the top jaw and two on the bottom. These teeth move forward as they wear out and are replaced by the next set. When the last set has gone elephants can die from difficulty eating enough food.
*The land animal with the most number of teeth is the armadillo-it has as many as 104!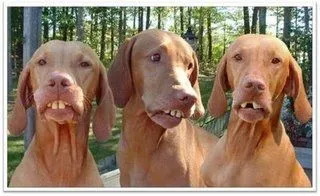 *The blue whale, largest mammal on earth, only eats tiny shrimp because it has no teeth, even though a full-grown man could fit in its mouth.
*Egyptians were among the first dentists. Some mummies have teeth filled with a kind of resin and malachite. In other mummies, gold wire has been used to bind loose teeth
*Bet you didn't know that the soreness you feel when you burn your mouth on mozzarella cheese has a name, "pizza palette."
*Your teeth are as unique as your fingerprints. In fact, even identical twins have different dental fingerprints!
*Only the common cold beats tooth decay as the most prevalent disease in the United States, even though a third of us make it all the way to the age of 17 without ever getting a cavity.